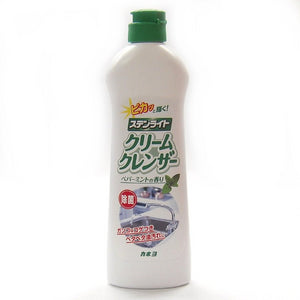 Product Description: 
The new creamy texture is designed to clean stoves, sinks, cutlery, kitchen utensils, and tiles. Using a special ingredient in the bamboo extract, the cream has an antibacterial effect. It has a bactericidal and deodorizing effect and is easy to remove long-lasting grease in burnt food. It is a round container that women can easily accommodate.


Feature:
Net Weight: 400g
Brand: Kaneyo
Made in Japan
How to use:
Apply the required amount directly to the surface or sponge, wipe the surface, and rinse.
Precautions:
Keep out of reach of children.
For tableware, cooking utensils, etc., rinse thoroughly with water after use.
When washing, rinse with a sponge, etc. Use gloves when using roughness or for long periods of time.
Do not use an external application.
When you swallow, let drink water and so on.
After entering the eyes, rinse thoroughly with water and do not rub. Seek medical attention if an abnormality occurs.