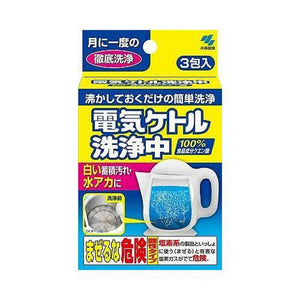 Product Description:
A special detergent for electric kettles, uses the power of negative ions to remove the dirt that cannot be washed off by the detergent in the kettle, and the effervescent power can clean all corners of the kettle. Adding 100% lemon at the same time can easily wash away the alkali and dirt adhering to the inside of the kettle.
Feature: 
How To Use: 

Pour water in the inner tank to the full water mark, and pour 1 packet of medicine.
Close the lid.
Connect the power supply (plug-in plug), boil hot water, and leave it for about 1 hour. In order not to use the kettle when washing, please stick the attached sticker on a prominent place.
Unplug the power supply (plug-in plug), open the lid, pour the detergent into the sink and discard it.
When there is remaining dirt, wipe it with a sponge.
After washing, rinse the inner pot of the electric kettle 4 to 5 times.

*Depending on the type and degree of dirt, it may not be possible to remove dirt.*
Cautions:
Can not be burnt empty. Because it may cause burns, electric shocks or short circuits, At the same time, do not exceed the full water line of the electric kettle when adding water.
When washing the electric kettle, it is hot water, so please be careful not to get burned. At the same time, please keep it out of the reach of children.
Please wear kitchen gloves when cleaning.
Cannot be used for other purposes.
Please use it immediately after opening.
Do not store in high temperature or humid places.
*At the same time, the product cannot remove the internal discoloration of the electric kettle caused by heating*.