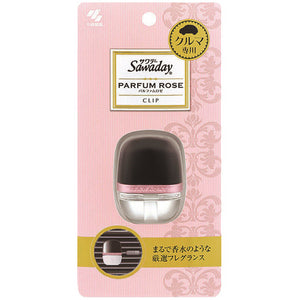 Product Description:
 A floral and fruity scent that feels like a perfume. Simple and elegant design matches any car model. Lasts approximately 1 month in spring and autumn.
Feature: 
Net Weight: 6ml
Flavor: Rose
Made in Japan
Brand: Kobayashi
How to Use:
Attach the included clip from the bottom to the top. *Insert it until you hear a "click".

Open the top cover and remove the bottle.
Remove the cap. *Chemical liquid may be accumulated around the wick. If the bottle is diagonal, the chemical liquid may spill out. Be careful not to stick to your hand in any case (reattach the cap when interrupting use)
Set the bottle in the claws of the main body. *The claws must be inserted under the ring.
Put the upper cover back on
Insert the clip into the air conditioner vent board.
*To prevent accidents, please make sure that it does not come off easily. Always attach the bottle to the bottom to prevent liquid from spilling. Do not tilt forward or forward.
Do not tilt over 45 degrees. May damage the interior