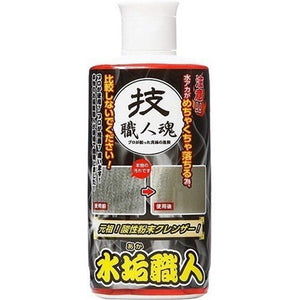 Product Description:
Water stain craftsman is a powerful cleaning agent that can be used without dissolving the abrasive by mixing both acidic powder and abrasive with powder, which turns into an acidic liquid when it gets wet with water.Because it is a cleanser, you can adjust the cleaning power by adjusting the amount used, and it is a powerful cleaner that solves troublesome stains around water.
Feature: 

Net Weight: 200g

Size: W60mm x D40 x H150mm
How To Use: 
Wet the object firmly
Sprinkle directly on the object or rub it on a sponge or towel
Rinse or wipe well with a tightly wrung cloth or towel.
If the dirt is hard to remove, increase the amount used and reduce the amount that dissolves in water to improve the cleaning power
*Please note that the higher the cleaning power, the easier it is to get scratched
Caution:

Prevent detergent from getting on eyes, skin and clothing.

Wear rubber gloves and protective goggles when working.
Keep out of reach of children and do not use for any other purpose.
Never mix with chlorine-based detergents (bleach, mold remover).
Because it is sensitive to humidity, be sure to close the cap and store it in a place with low humidity.
*Because of its strong polishing power, the coating will be peeled off. Also, if you rub it strongly, it will be scratched, so do not use force, avoid scratch-prone materials such as plastic, and be sure to try it in an inconspicuous place before using it*.
First Aid:
If it gets on your skin, wash it off with soap and running water.
If you have any abnormalities, consult a doctor immediately.
If it gets in your eyes, rinse with running water for at least 15 minutes without rubbing, and be sure to consult a doctor. Never leave it unattended as there is a risk of blindness.
If swallowed, rinse immediately without vomiting, drink 1 to 2 glasses of water or milk, and consult a doctor immediately.
If you feel something is wrong during use, stop using it immediately and leave the place to wash your face and gargle.