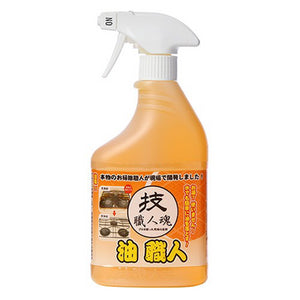 Product Description:
A powerful lotion that specifically removes tenacious oil and coke dirt, can quickly and thoroughly penetrate and decompose dirt, and give you a clean kitchen stove, fan, etc.
Feature:
Net Weight: 500ml
Made in Japan
How to Use: 
ON means open, and the nozzle is aimed at the place that needs to be degreasing or scorching (if you want to make the lotion more penetrate, use chopsticks to rub the grease a little).
Leave it for a while for the emulsification effect of the oil (the oil turns white), and then wipe it clean with a rag.
If the oil is tenacious, use a sponge to scrub it.
Rinse with water or cold water or hot water again.
Precautions:
After spraying, please don't wipe it off after too long.
Do not share with other lotions.
Please use it in a well-ventilated place, and wear housework gloves.
It is recommended not to use it on products with coated paint.
Do not use aluminum products.