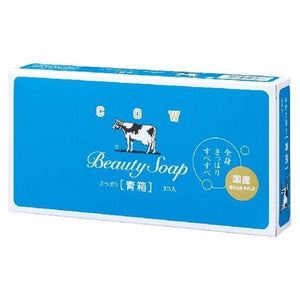 Product Description:
 Gentle cleansing, exfoliation, natural ingredients moisturize and moisturize.
A century of craftsmanship, gentle and hypoallergenic, carefully cares for every inch of skin.
Contains milk essence to deeply moisturize the skin.The formation of a "natural sebum film" strengthens and protects the skin from daily aggressions.
Add plant-based squalene with moisturizing effect to deeply moisturize and make skin smooth and moisturized.
Centuries-old craftsmanship, low-allergic formula, non-irritating, rich and delicate foam, gentle skin care, suitable for body and face.
Clean thoroughly, rinse well, refreshing and not greasy.
Fresh floral fragrance, refreshing.
 Feature: 
Net Weight: 3 pcs(85g)
Blue
Brand: Cow
Instructions:
Wet the skin, add water to rub the soap with both hands to lather, apply the foam to the skin and massage gently, then rinse off with water.

Suitable for face and body.