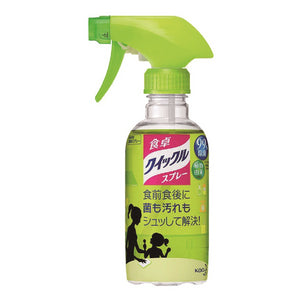 Product Description:
A clean spray for dining tables that is 99% or more sterilized. Tissue is OK. Easy to clean bacteria and dirt! For diligent sterilization before and after meals. It also has deodorant and sterilizing effects by firmly removing spills and hand stains on the table. The cleaning ingredients are derived from plants and are neutral type. It is safe to use in refrigerators, microwave ovens, electrical appliances, floors, etc. You don't have to spray twice. It has a faint green tea scent
Feature: 
Net Weight: 300ml
Made in Japan
How To Use:
In order to clean and disinfect the dirt on the table, furniture, cabinets, windows, mirrors, toys and footprints (floor, vinyl) and sticky dirt on the floor, please spray it directly and wipe it off with paper or a clean cloth. . Places in direct contact with food or baby toys should be watered after use.
To remove bacteria, spray directly and let it stand for 5 minutes to wipe off. Be careful not to drip on the baby.
Spray on paper or a clean cloth to wipe stains on electrical products (such as the inside of microwave ovens and refrigerators), telephones, lighting equipment, refrigerators and carpets. Do not spray directly, as it may cause stains and malfunctions.
Caution:
Things that cannot be sprayed (white wood that seeps into the water, furniture, wall materials, etc.)
Music coating
Copper and brass products
Car paint
LCD and plasma display
Leather