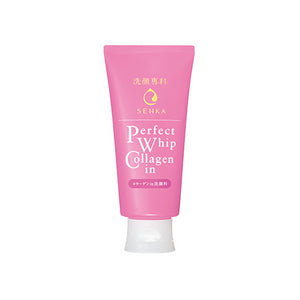 Product Description:
A Japanese facial cleanser with a lightweight formula that forms a rich, fine, and soft foam that penetrates into the pores to clean impurities and excess sebum while leaving skin feeling clean, smooth and hydrated.
Perfect Whip Collagen benefits include the removal of dirt, oil, sebum and other impurities from pores without drying out the skin, keeping it moisturized, firm, and soft.
Silk essence found in this Shiseido Senka Collagen product help to protect the skin and retain moisture, whilst the collagen can help to improve skin elasticity and hydration.
Features:
Lightweight foam cleanser containing hydrating agents, including collagen, natural derived silk essence and W hyaluronic for hydrating.
It has extract (including silk essence) from natural white cocoons.
Mild aroma.