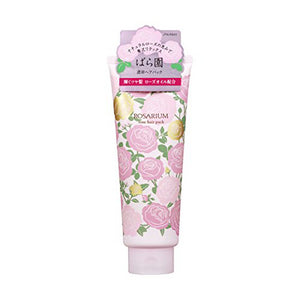 Product Description:
This hair pack provides intensive care for the hair, Even damaged hair can be nourished with thick moisture, Cares for damaged hair and restores the smoothness of hair. Exudes an elegant rose fragrance. Combined with memory skin ingredients (aminopropyl simethicone), royal jelly extract and sorbitol, it can care for dry and frizzy hair tips and hair that is easy to entangle. Nourish and moisturize, make hair water bright and supple. Prevents bifurcation and roughness of the hair ends, and can gently care for damaged hair. The fragrance of rose lasts long.
Feature: 
Net Weight: 220g
Brand: Shiseido
Flavor: Rose
Instructions:
After shampooing, drain the water and apply it to the entire hair, especially the damaged ends, and rinse thoroughly after a while.

Precautions:
Do not place it in an extremely high or low temperature place, and where it is exposed to direct sunlight.
Do not get into the eyes. If it gets into the eyes, wash it thoroughly with water immediately. If there is an abnormal reaction, you should see an ophthalmologist.
Please place it out of the reach of infants and young children.