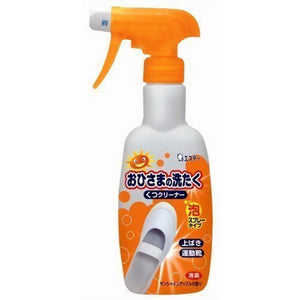 Product Description:
When washed shoes are hung out to dry in a light place. Photobleaching chemical in the product will degrade persistent dirt and odors of the shoes. (this effect is achieved even under room light or drying in the shade) It is a spray-type product that foams up easily and will cleanse dirt that are deep in shoes. The product has a refreshing smell of sunshine apple
Feature: 
Net Weight: 240ml
Flavor: Apple
How to Use:
Soak shoes sufficiently in water or lukewarm water and the spray the product on the shoes directly
Wash the shoes with a brush
Rinse with water thoroughly
Remark:
1 bottle is enough for washing about 30 shoes if each pair of shoes are sprayed 10 times
Shoes must be wet before spraying the product over it
Shoes do not need to be soaked after spraying the product on the shoes
The bleaching component of the product reacts only to soiling and odor. It is possible to use it with shoes made of different material or plastic stripes in different colors as it will not discoloring.