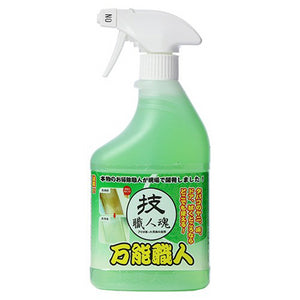 Product Description:
This is a multi-purpose detergent that can be used anywhere "organic stains".
Effective for wallpaper turned yellow with tobacco tar, around the kitchen, cleaning tables and floors, etc. In addition, because it has a sterilizing effect, the finish is refreshing in terms of both hygiene.Traditional strong detergents, such as tiles and glass when used
The surface is made of a slippery material, and stains appear to hang down. Once attached, it cannot be dropped. Therefore, even if the glass and mirrors were dirty, strong detergent could not be used.All-purpose craftsmen can't do these stains, so they can also be used for tobacco tar on lighting cover parts, heavily soiled glass and mirrors.
Just spray it on the dirt, wait for a while, and then wash it!
Feature:
Net Weight: 500ml
Made in Japan