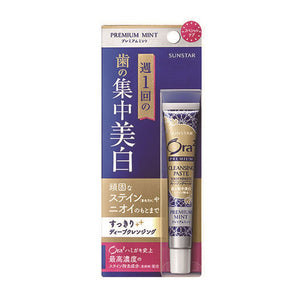 Product Description
Concentrated whitening teeth once a week.
Clear deep cleansing up to stubborn stain (colored dirt) and odor.
Ora2 the highest concentration of stain removal component (cleaning agent) formulated in toast.
Prevent the deposition of tartar taking tooth whitening teeth.
Deep cleansing by intensively dropping stubborn stain and tooth dirt that is difficult to drop with ordinary toothpaste.
Premium mint flavor full of freshness.
More white and shiny teeth brush teeth.
Reward care once a week.
Mild, easy-to-polish mild use.
With the stain control ingredient, suppress adhesion of the stain, keep the original whiteness of the teeth.
Feature:
Net Weight: 17g
Brand: Sunstar

 
How to use:
Apply an appropriate amount (pearl grain size) to the toothbrush, polish it so that it usually toothbrush, then rinse with water.
Particularly for stain (colored dirt), you can use it for a partial polish.
This product is a toothpaste with high cleaning effect to remove stain of teeth.
Recommend using around once a week.