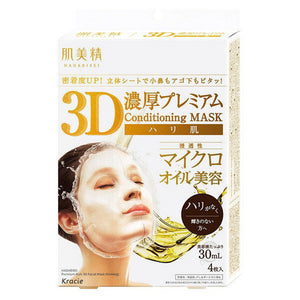 Product Description:
Improved 3D face masks with unprecedented premium thickness and adhesion
Improved fit*1! Fits perfectly onto the undulations of the face. It allows for a suction-like fit and a rich texture on the skin.
For firm, resilient, and supple skin. Recommended for those whose skin has lost firmness and glow.
It has a micro-oil formula that feels moist but not sticky. A well-balanced mixture of three beautifying (moisturizing) oils: argan oil*2, squalane oil, and jojoba oil. The micro-sized particles of oil in the liquid supply the essential oils and enhance moisturizing effects.
Contains the stratum corneum conditioning agent (moisturizing) Lipidure®*3. This agent greatly enhances moisture retention (double that of hyaluronic acid), and returns health to the skin in which the barrier function is deteriorating.
Contains Hadabisei's original skin conditioning mixture for beautiful skin texture: star fruit*4, Coix seed extract, yuzu ceramide*5, pot marigold, and glycerin (skin conditioning agents).
Contains fermentation solution of rice, an agent that enhances penetration.
It provides a moisturizing effect and improves penetration of the stratum corneum.
Feature: 
Net Weight: 4 PC
Brand: Kracie
Firm.