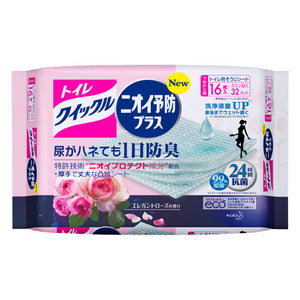 Product Description:
A thick, durable, textured sheet that can clean all areas of the bathroom, from the seat and bowl to the walls and floor. You can easily wipe clean with this without worrying about getting your hands dirty. Can be flushed down the toilet after use. Odor prevention ingredients added to help keep the bathroom smellng fresh for one day 
Feature: 
Net Weight: 16 pcs
Brand: Kao
Made in Japan
Flavor: Rose
Handling Precautions:
Do not use for anything other than its intended purpose.

Keep out of reach of children.
If you have rough skin, or are using for a long time, use rubber gloves.
Do not use on water-based paint, lacquer, varnished coatings, plain wood, paulownia and glass surfaces.
Do not leave near fire, in direct sunlight and places with high temperatures.
In order to prevent drying out, press the front of the container lid and close securely.