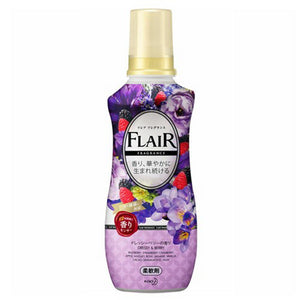 Product Description:
New technology has been added to the original technology "scent sensor that responds to sweat and body temperature", and the gentle scent that has been easy to disappear is firmly trapped inside the fiber. Therefore, the first impression of the scent lasts brightly all day long. Soft and soft to the bare skin. Prevents unpleasant odors with antibacterial and deodorant effects. Prevents washing wrinkles and static electricity. Gentle bouquet scent that is elegant and elegant.
Feature: 
Net Weight: 570ml
Flavor: Berries
Made in Japan
Brand: Kao
HOW TO USE:
Fully automatic / drum type: Put this product in the automatic inlet of the soft finish and wash it.
For two-tank type / wash-out: When the rinse water is clean, add this product and spin it for 3 minutes or soak it in water and then dehydrate it.
USAGE GUIDELINE:
7 ml for 1 kg of clothing