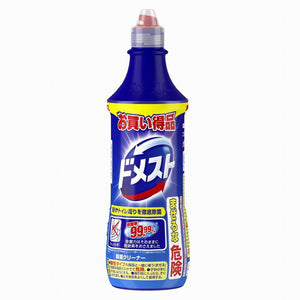 Product Description: 
Restores the toilet to its proper cleanliness by using Domesto Antibacterial bathroom cleaner. It can effectively penetrate and remove stubborn stains and urine stains on the toilet, special inverted nozzle design, cleans while sterilizes the toilet.

Feature: 
How to Use: 

Pour detergent into the inner wall of the toilet, wait for 2-5 minutes and then rinse with water (approximately 20ml each time)
The toilet tank and outer seat can be wiped with 20ml of detergent and 2L of water, diluted with water, and finally rinsed with clean water.
Please ensure that the environment is well ventilated when using, pay attention to eye safety, and wear gloves.

*If necessary, use a brush to assist in cleaning.*